My boys are in love with owls right now. I suspect it has something to do with their new fascination with Daniel Tiger's Neighborhood or the plethora of Fall decor in stores, but they can't get to seem to get enough. They are also really into puzzles and crafts, so I thought I'd combine it all into this easy busy bag activity.
This is easy to put together and works great as part of a busy bag. It's like a felt owl version of Mr. Potato Head! Toddlers and preschoolers will have lots of fun building their owls and taking them apart again. Here's what you need:
One sheet of sticky backed felt (this will be the body)
Various colors of felt for the wings, nose, and feet
Googly eyes (mine were 1.5" diameter)
Velcro
Optional Cardboard or Clipboard
To make your owl, first download this
owl pattern
from Sew Simple. I used this for the body and feet. Cut out the body and trace it onto your sticky backed felt. Cut out your shape.
Cut out the feet shape and trace onto the colored felt of your choice. Cut out.
Cut a small square of colored felt for the nose.
Cut 2 teardrop shapes for the wings. Mine were about 2 inches long and 1 inch wide.
Cut a small square of velcro for the backs of each googly eye. Stick the square with the rougher hook side to the back of the eye like this:
This will allow it to adhere to the felt.
Here's what your pieces will look like:
And here's what it looks like when put together:
You have several options from here. You can leave it as is - your toddler will have a blast taking the features off and putting them back on! Mine were thoroughly entertained by this.
I found the sticky backed felt to be pretty sturdy, but you can always cut out a second owl body shape from cardboard and stick it to the back.
Or, if you'd like to have a larger piece, I've created a
background design
that you can stick your owl to. This comes in handy if you'd like to attach it to a clipboard or hang on an easel.
You can find and print the background
here
.
We use this as a re-usable busy bag activity, but of course if you'd like to make a more permanent craft feel free! You should be able to adhere the felt pieces with mod podge. It would make a great gift from your little ones.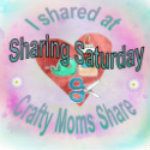 Enjoy!